Scholarship Opportunities
Sharon Wandler Scholarship
The Yakima Housing Authority established the Sharon Wandler Scholarship in memory of Sharon Lee Wandler for the lifetime work and contribution to our community. Sharon dedicated 24 years of her life serving as the Finance Director of the Yakima Housing Authority. Three scholarships will be awarded to candidates pursuing their first degree.
One scholarship, which will be awarded to a returning college attendee, and two scholarships for High School Graduates or GED holder. Each award will be a one-time scholarship.
Yakima Housing Authority current and past residents meeting the financial and residential requirements will be eligible to apply. Applicant must also be attending or planning to attend a two or four-year college or vocational school that will end in a certification or degree. In addition, applicant must be a current high school student, or returning adult student who possess a GED or high school diploma. The Sharon Wandler Scholarship is geared toward those with demonstrated leadership qualities and participation in extracurricular activities, who plan to attend higher education on a full-time basis.
The scholarship application is now available. The application must be submitted with all relevant documentation no later then midnight on April 18, 2023.
2023 SHARON WANDLER APPLICATION
2023 SHARON WANDLER SCHOLARSHIP FLYER
Mailing Address: Yakima Housing Authority | P.O. Box 1447 | Yakima, WA 98907 Electronic Submissions: Monica.Rubin@yakimahousing.org, | (509) 453-3106, ext. 114
---
In Memory of Sharon Lee Wandler
June 20, 1945 - August 5, 2012
Sharon worked in finance and accounting throughout her professional years, serving 24 dedicated years as the Finance Director at the Yakima Housing Authority. She took pride in helping others acquire homes, in being a good steward of tax payers' money, and in being part of her team. She continued to take joy in strengthening her community by volunteering for the Naches School District, becoming treasurer of the Dollars for Scholars Scholarship Fund. During a rally with her recent illness, Sharon shared how she longed to recover in order to continue her efforts for the students in her community.

Sharon was a spitfire. She was feisty, and had the ability to avoid taking herself too seriously. With her keen wit, she helped others to gain a sense of perspective. She shared fiercely loyal friendships, and lived in the certainty that she and her friends would do anything for each other.

Sharon was a gifted mentor and devoted grandmother who filled her schedule with grandchildren's events: school events, sports, plays and school programs. She was a nurturer, tending her home garden and the garden of human beings who graced her life. She continues to be a source of inspiration. Even through her illness, her faith was undeterred and her soul was prepared.
"What Home Means to Me"
The drawing from our YHA youth, a 2018 national poster contest winner, was incorporated into a water bottle design. The bottles are manufactured by Liberty Bottle Works, a local agency. These water bottles are available for purchase and all proceeds will go to support the Sharon Wandler Scholarship.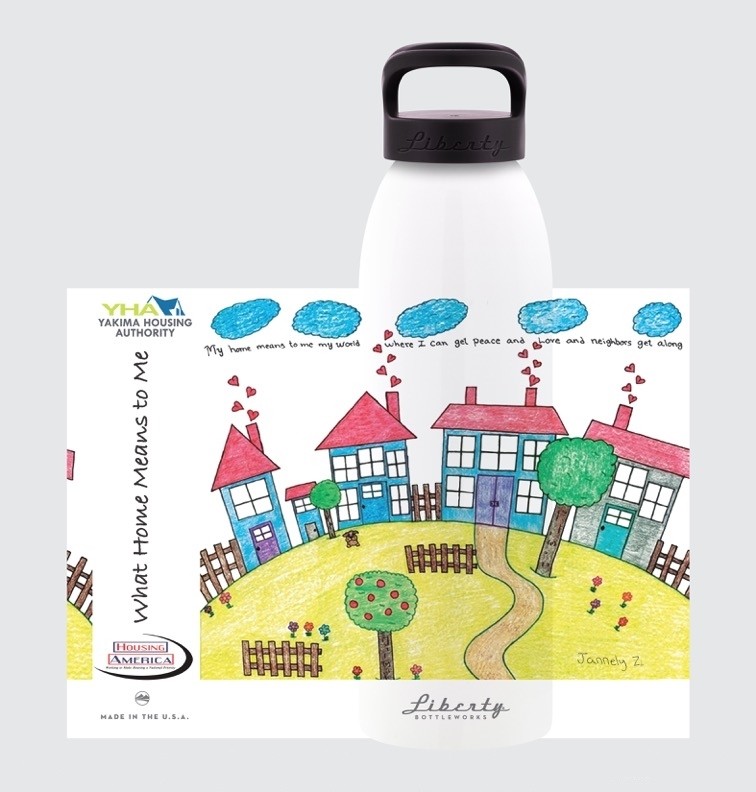 2018 "What Home Means to Me"
My home means to me my world where I can get peace, love, and neighbors get along; where kids go outside on the playground and play. The smell of a good breakfast made by my mom in the kitchen, where friends come over and enjoy our home, my place is a quiet area… my mom likes to have a nice relaxing time and I like the feeling of a warm and secure home: a safe place when I go to sleep every night, dreaming that the next morning I will wake up in my home with my family full of happiness and joy. …That is what my home means to me.
By: Jannely Z. Age: 12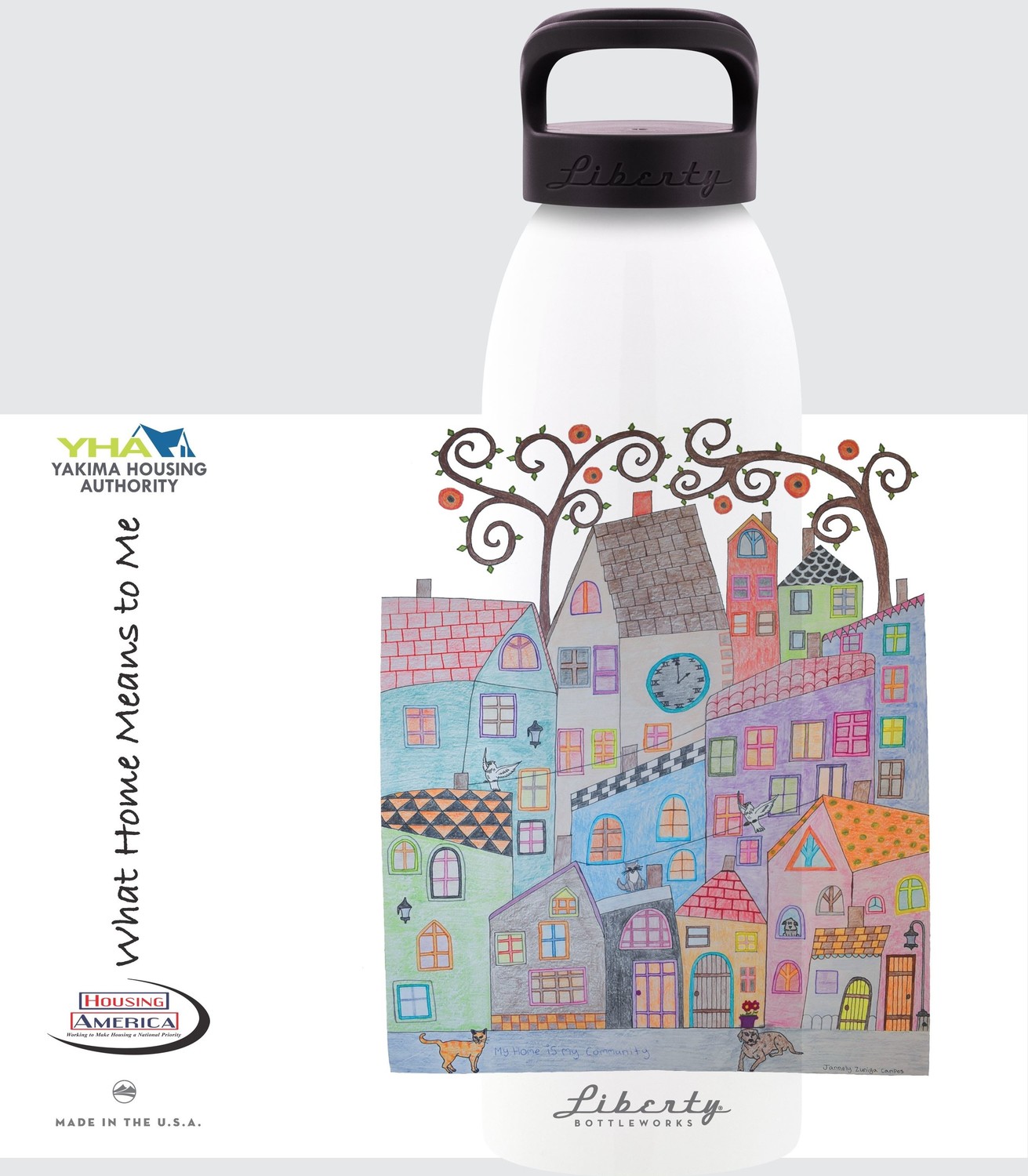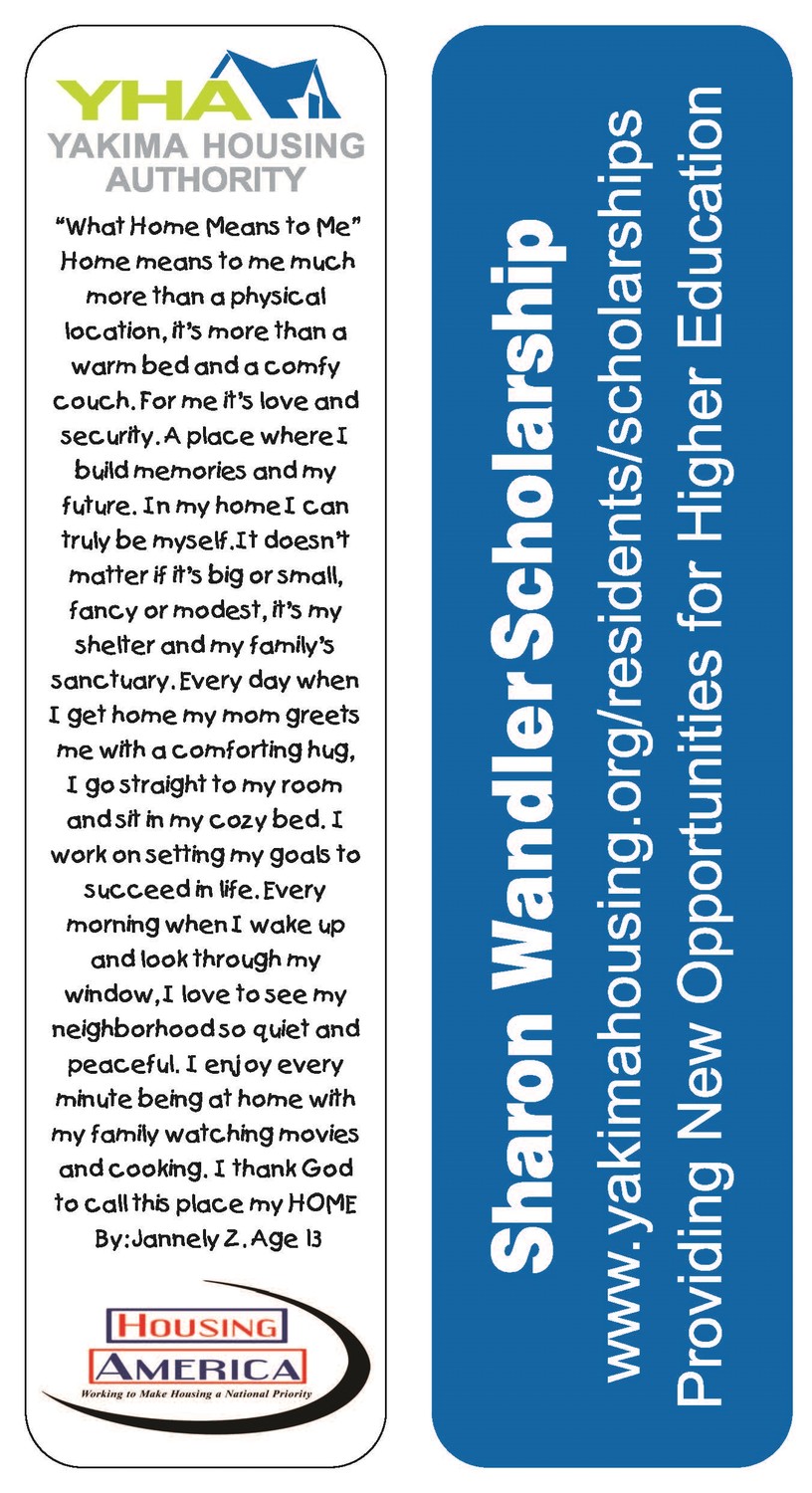 2019 "What Home Means to Me"
Home means to me much more than a physical location, it's more than a warm bed and a comfy couch. For me it's love and security. A place where I build memories and my future. In my home I can truly be myself. It doesn't matter if it's big or small, fancy or modest, it's my shelter and my family's sanctuary. Every day when I get home my mom greets me with a comforting hug, I go straight to my room and sit in my cozy bed. I work on setting my goals to succeed in life. Every morning when I wake up and look through my window, I love to see my neighborhood so quiet and peaceful. I enjoy every minute being at home with my family watching movies and cooking. I thank God to call this place my HOME.
By: Jannely Z. Age 13
Water Bottles for Sale
Help us support our youth in their pursuit of of higher education by purchasing a beautiful water bottle. Please click here for a purchase order form. Online purchase can be made via PayPal.
*Payment Options are Check, Money Order, or PayPal*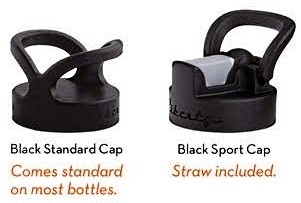 Standard – Makes sure your drink stays safely in the bottle with the Standard Cap. Pressure tested and patented ¼ turn on/off design. Feel the click and know it's sealed.
Sport – For those of you who like a flip top option, straw now included.
Support Our Scholarship
Your support enables us to improve lives within our community.